This garden redesign was carried out for an existing domestic maintenance customer in Northampton.
The garden sloped upwards away from the house, but the customer had to step down out of the house from every doorway into the garden.
The garden had a small decking which was old and slippery and a patio on one side of the conservatory with another small patio on the other side of the conservatory.  To one side of the garden was a shed, vegetable plot and a greenhouse.  The vegetable plot and greenhouse were no longer used. The rest of the garden was lawn and perennial beds with a very small nature pond. From the house to the rear fence the garden rose upwards by about half a metre.  To get from one patio to the other, the customer needed to walk across the grass.
Before
We suggested to the customer that, as the greenhouse was still in good condition, they might look at putting it up for sale telling possible buyers that they would need to dismantle and remove.  As the customer wasn't in any hurry for the work to be undertaken, they took our advice, and the greenhouse went to a new home.
We lifted and potted any plants that the customer wanted to replant once the garden was redesigned.  The fence between the two properties was replaced with a featheredge/closeboard fence and at the back of the garden we used the post and rail fence to create a featheredge fence to ensure privacy into the new garden.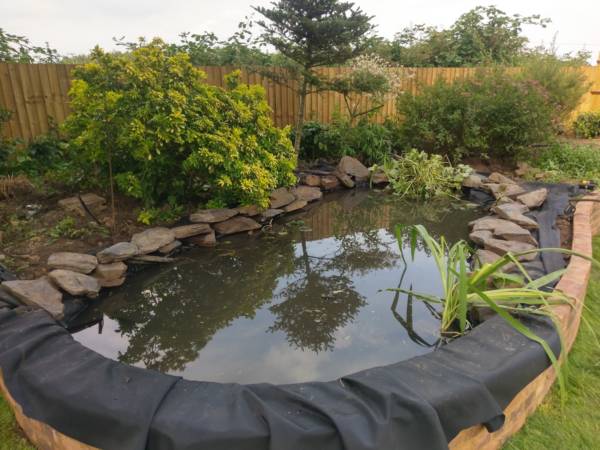 A mini digger levelled out three quarters of the garden, lifting the area beside the house and dropping it further back plus digging out footings for a retaining wall.
A sleeper bed alongside the new fence was added, then an armoured cable was put around the garden ready for lighting to be added later.
We laid a new sandstone patio and erected a curved retaining wall around the back of the garden.
After
An integral reason for the garden redesign was the customers love of star gazing, where the patio met the retaining wall a circle patio was laid. With the help of the customer, a mortar line was created that directed towards true North. This would eventually allow the customer and visitors to the garden to set up telescopes to look at the night sky.
The small pond was now double in size and used the retaining wall as part of it's boundary creating occasional seating.  We installed a new pump, filter and air lines along with a pump house hidden behind a Choisya.
The garden was re-turfed and the lifted plants replanted around the garden.