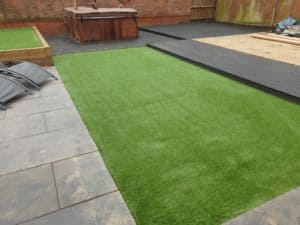 The customer had started this project and found that they were unable to finish it, we were asked to come in and take the project to its completion.
A patio had been laid and a concrete base that would eventually house a man-cave.  A sleeper raised bed had also been created plus a base for a hot tub which was already in situ.  The garden was surrounded by a curved wall and a fence; however, the area was very messy and needed to be cleared of bamboo and self-set trees and weeds.
The customer had a vision of an no maintenance garden with decked area and artificial grass, but couldn't initially decide on whether they would go wood decking or composite decking.  The raised bed would be covered in artificial grass and there would also be a lower-level area between the man-cave and patio with artificial grass.  Essentially the garden would become and entertaining space useable 12 months of the year.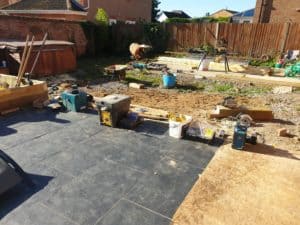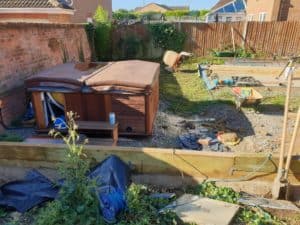 We cleared the area of vegetation and reinforced the sleeper raised bed which would allow it to hold the subbase for the artificial grass.  The vegetation had to be removed by hand as the new patio prohibited access to the garden for heavy machinery.  With the area cleared, we then laid down a base for the decking, until such time as we knew what top we were adding.   The decking was on multiple levels and was to surround the hot tub.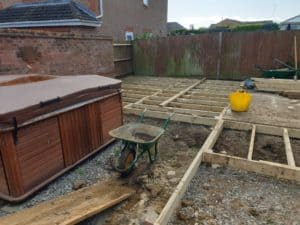 Hardcore was added to the areas that would eventually become artificial grass, this made the site weatherproof – just in case it rained and these areas became muddy.
Next the decking was laid making sure we cut around the Hot Tub and against the curved wall, the customer decided to go with the composite version to enhance the longevity of the garden and make it anti-slip, it was in keeping with the Artificial Grass.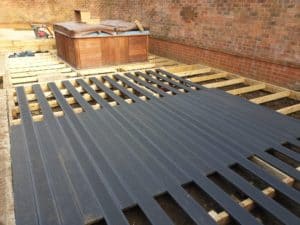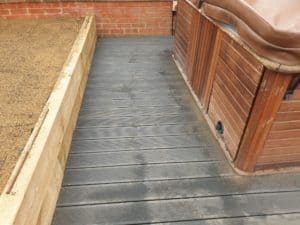 The Artificial Grass chosen was Madrid supplied by Grass Direct in Milton Keynes.  www.grass-direct.co.uk
The composite decking was Smartboard in Slate, supplied by Harlestone Supplies. www.woodensupplies.co.uk